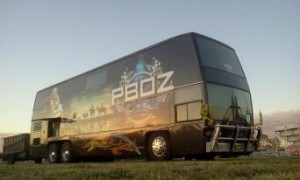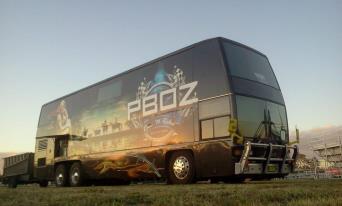 Our PBOZ Black buses attend local and interstate rodeos, motor racing events and festivals. You may even find us at your local show
PBOZ started from humble beginnings when Company director, Jennie Lilley-Cafe found it near on impossible to buy ladies racewear that looked smart and fitted a regular lady. This is where the popular race brand Pitbitch came to the fore back in 2002. Jennie then found that even the guys gear was drab and boring and felt the need to produce not only a race brand but also a country brand namely PBOZ Country . PBOZ  is now known worldwide and we continue to innovate with our designs and manufacturing
PBOZ also sponsors race teams and proudly helps Newcastle Speedway rider Alex Davies, Bullriders Michael Beard and Mitchell Tidyman on their quest in bull riding,  We also sponsors many of the Major Bull rides and Bronc rides in the rodeo circuit both in NSW and Queensland and outfit committees and bullfighters.
PBOZ PARTY TIME THE RODEO BULL?
The boys at The Nakadoo Rodeo Company in Coonamble have bred our prize bull. He goes by the name of PBOZ Party Time. Keep your eyes out and cheer him on when he busts out of the chutes.
PBOZ was a manufacturer of racing merchandise for legendary speedway rider Leigh Adams and are a leading supplier of crew shirts and racing and rodeo merchandise to fans and companies worldwide.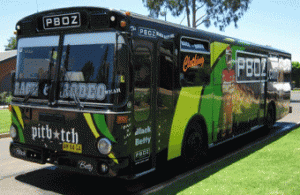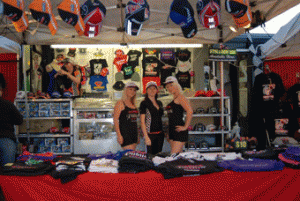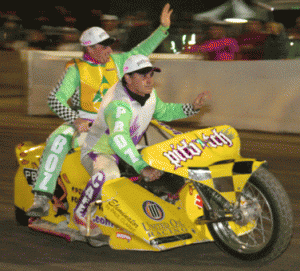 WHAT IS THE BLACK BUSES I SEE ON THE HIGHWAY YOU ASK?
Many people have noticed the awesome PBOZ Black merchandise buses at various venues Australia wide.
The Buses are fully stocked and your mobile department store on wheels for race and rodeo gear.
If you like our gear, great, let us know and if you see the PBOZ Black merchandise buses on the highway make sure you say hello! 
 
We appreciate any feedback or website problems
Enquiries also most welcome. press the contact us button or email: pbozshop@bigpond.com.
OFFICE HOURS 9am – 5pm (Australian Eastern standard time)
Australia wide phone 02 4988 6722
International phone +61 2 49886722